There is no need for braces when transparent, unnoticeable and removable aligners are used to straighten the teeth.
The treatment is also comfortable and quick. You can remove the aligners when needed, e.g. when eating.
This assessment of the need for treatment is best suited for evaluating the need for demanding orthodontic or malocclusion treatment using aligners. The assessment provided by an orthodontist includes a comprehensive evaluation of oral and dental condition and of suitable treatment options.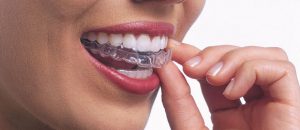 There are two Invisalign treatment methods: Invisalign Comprehensive (Full) is suitable for demanding orthodontics and malocclusion treatment. Invisalign Go is mainly suited for the aesthetic treatment of the front teeth.

The service process
An orthodontist evaluates the suitability of using aligners in orthodontic treatment. During the assessment appointment, a treatment plan is drawn for the necessary procedures. Based on this plan, you can decide whether to begin orthodontic treatment and book an appointment for the first procedure.
What should I take into account when booking an appointment?
Not all appointments for this service are available for online booking. If you cannot find a suitable time, call us on +358 (0)10 400 3400.
The assessment appointment does not bind you to any further treatments.
This appointment is only for evaluating the suitability of using aligners in orthodontic treatment. If you are considering a treatment other than aligner treatment, book an appointment for Assessment of the need for orthodontics
If you are mainly interested in the aesthetic straightening of the front teeth, you can book a free general dentist's appointment for the assessment of the need for orthodontics (Invisalign).