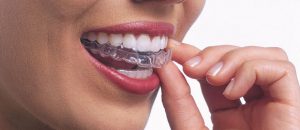 No braces needed when teeth straightening with clear, unnoticeable and removable aligners.
Treatment benefits are comfort and speed. You can remove the aligners anytime—for example, when eating
Teeth straightening with aligners is generally chosen for aesthetic reasons.
The service process
An orthodontist or a general dentist who is specialised in aligner straightening evaluates the suitability for aligner treatment.
Two treatment methods used for Invisalign straightening: Invisalign Go is suitable for the aesthetic treatment of the front teeth. Invisalign Full is suitable for the treatment of demanding orthodontic straightening and malocclusion.
During the assessment appointment, a treatment plan is made for the necessary procedures. You can use the plan to make a decision to start teeth straightening treatment and make an appointment for the first procedure.
What should I take into account when making the appointment?
The assessment appointment does not bind you to any further treatments. The cost of the service is determined by the duration of the visit and whether the assessment is done by a general or a specialised dentist.
During the appointment, only the suitability of using aligners for teeth straightening is determined. If you are considering treatment other than aligner straightening treatment, book an appointment here Assessment of the need for orthodontics.